Burger King thanks you for your service to our country
and wants to be of service to you and your family.
Employment Opportunities!
Veterans represent the spirit, strength, and courage of our country. You have served to protect our values and our freedoms. And it is through that protection that veterans generously serve as the face of our nation.
Burger King Franchise Owners throughout Wisconsin welcome veterans and their families to serve as the face of our Brand. Burger King has long been dedicated to doing the right thing and as a first step in that process; Burger King is dedicated in supporting and investing in you.
Wisconsin owners and operators are always on the lookout for ambitious and dynamic people to join our performance-driven teams. In our fast-paced restaurants, we look for responsible and hardworking problem solvers to guide us.
At Burger King, we offer job opportunities for veterans, their spouses, and their children (age 15 and older). Positions are full and part-time, hourly and salaried, and we provide competitive pay and benefits based on your experience.
Whether you are familiar with the restaurant industry or just starting out, the Burger Kings of Wisconsin provide training and flexible scheduling to accommodate your needs and to assist in your development.
We are hiring employees who are motivated, accountable, and who take ownership, to fill our
crew, management, and maintenance positions.
We believe Burger King is a place where exemplary work reaps great rewards. A place where teamwork, empowerment, and fun thrive!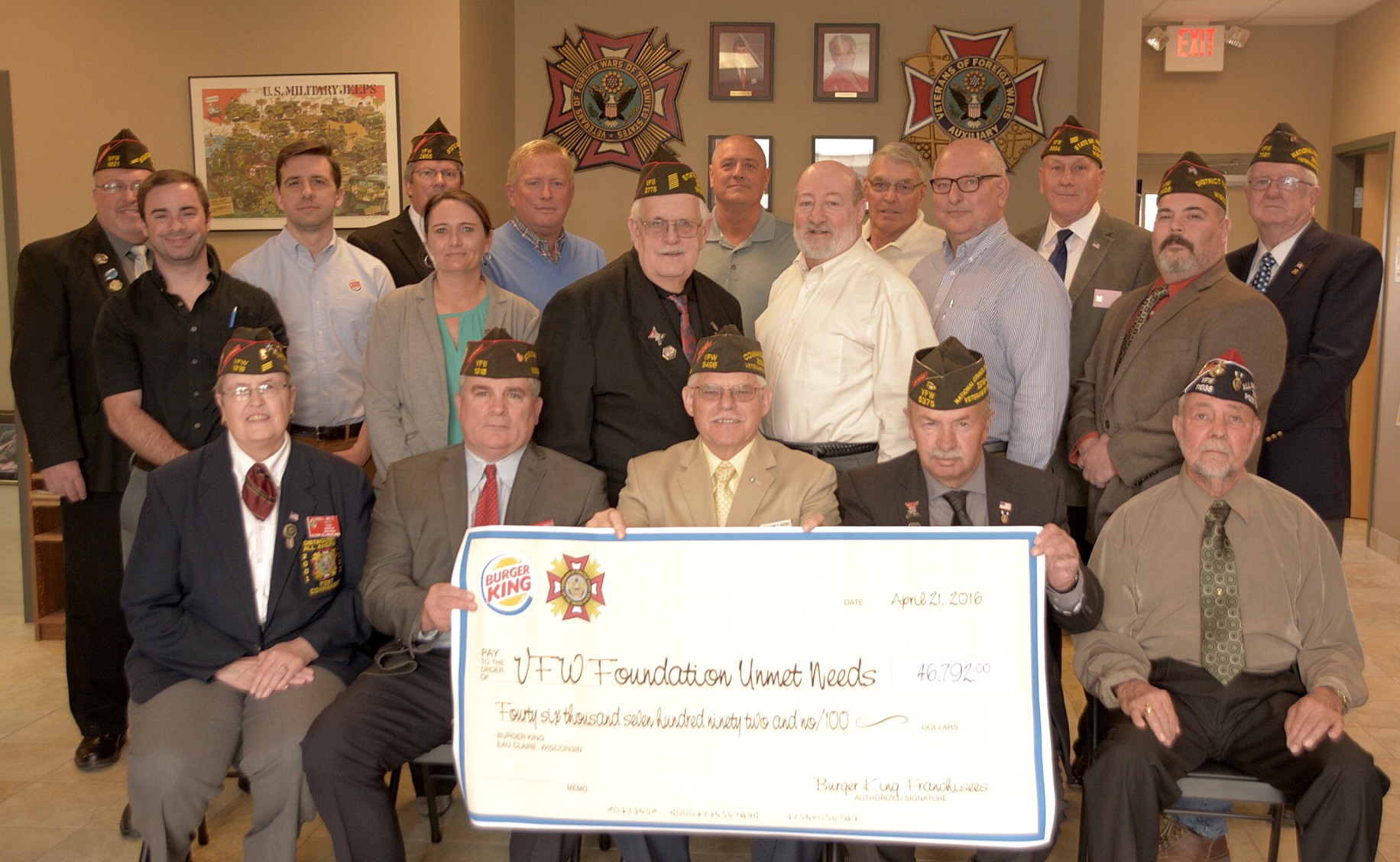 Posing with the "big checkā€¯ for $46,792 raised in Wisconsin last November are front row (l to r): VFW State Surgeon Gundel Metz; State Adjutant Joe Hines; PCIC Tommy "Tā€¯ Tradewell; PSC and National Councilman John Giese and Post 11038 All-American Commander Michael Fischer.
Over 100 Burger King's across Wisconsin participated last year. In the middle row (l to r) are: BK Franchisees Trevor Schwartz; Nathan Chiantella; Shari Davis and Gary Hubert; VFW State Commander Mike Borg; BK Franchisees Mike DeRosa and Tom Prevost; and VFW District 1 Commander Telemachos "Timā€¯ Agoudemos. In the back row (l to r) are: State Quartermaster Tom Heath; VFW Post 1318 Assistant QM Ray Trent; BK Franchisees Jack Doyle and Gene Hatfield; VFW State Sr. Vice Commander Mike Eggleston and Post 7591 QM Lemuel "Joeā€¯ Ellis.