Benefit veterans, active military and their families and enjoy an evening of music and dance at the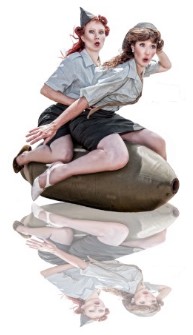 third annual Hawthorne Hangar Dance. The Hawthorne Hangar Dance held at the Chippewa Valley Regional Airport's Hawthorne Global Aviation Services, 3800 Starr Avenue pays homage to the dance events held overseas in air plane hangars during World War II. The dances gave soldiers a respite from the war and offered them company and entertainment while far from home.
The 1940s comes to life, Saturday, December 2nd from 6-11PM at the Hawthorne Hangar Dance. The time capsule event features music from Troppo Big Band, a local jazz orchestra, 1940s planes and vehicles, war memorabilia, iconic 40s dress, and a vintage costume contest. Arthur Murray Dance Studios of Eau Claire will perform and offer free dance lessons from 6 to 7PM. This year, food will be provided by 4 Eau Claire Restaurants: Connell's Club 12, Bar-B-Que Express, Hangar 54 Grill, and Yankee Jack's Public House.

Proceeds will benefit the VFW Foundation's Unmet Needs, a program that provides relief to veterans, active military and their families through immediate grants.