FOR IMMEDIATE RELEASE
Contact: David Green
State Adjutant 608 221-5276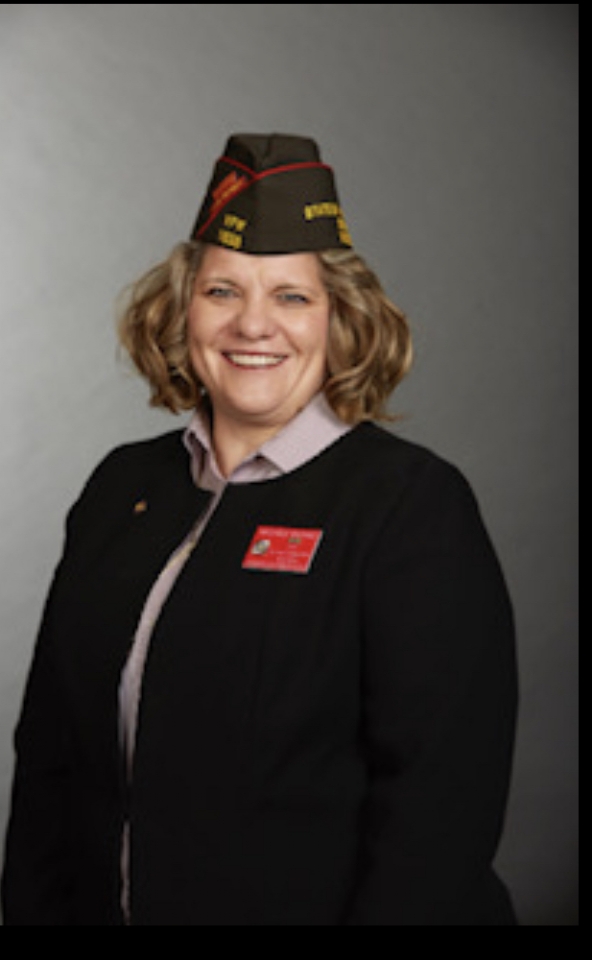 June 22, 2022
Madison—U.S. Air Force veteran and Merrill resident, Michele Rathke, was elected as Wisconsin Veterans of Foreign Wars (VFW) State Commander at its 101st State Convention on Saturday, June 11, 2022, at the Potawatomi Hotel and Casino in Milwaukee, Wisconsin. She is the Department's third female commander and the third also to hold membership in both the VFW and its Auxiliary.
Throughout her 20-year active duty Air Force career, Rathke served at Kelly AFB, Texas; Randolph AFB, Texas; Offutt AFB, Nebraska; Warner Robbins AFB, Georgia; RAF Upper Heyford, England, Keflavik Naval Air Station, Iceland and multiple areas of conflict including the Republic of Korea, OPERATION DESERT STORM and OPERATION DESERT SHIELD and then Al Jaber Air Base in Kuwait. She has served in many positions at all levels of the Veterans of Foreign Wars in Wisconsin. Michele was an All-American Post Commander, for the two years at Schmitt-Manecke-Donner VFW Post 1638 in Merrill, and was elected District 7 Commander for two years, that comprises over 30 VFW Posts in Central Wisconsin. She also served as Chief of Staff for All American State Commander Donald Lynch from 2019 to 2020.
Commander Rathke's motto for this year is One T.E.A.M. which stands for Together Everyone Achieves More. Rathke says "All members of the VFW Department of Wisconsin are veterans that have deployed and the families kept the fires burning at home. We all identify that teamwork is necessary to make gains and move forward. We aim to continue service to veterans while making sure the newest generation of eligible veterans knows we are here for them. We are one team."
A formal change of command ceremony was conducted in the Legacy Ballroom at the Potawatomi in Milwaukee with VFW State Commander 2018-2019, Gundel Metz as the installation authority and VFW Commander 2013-2014 Renee Simpson as Aid-de-Camp. Rathke replaces Cory Geisler who led the Department since June of 2021 out of a difficult era of COVID with lessening restrictions on gathering. For the Department, the VFW celebrated 100 years of service to veterans, military and their families across the state.
The VFW faces real challenges in the years to come. What is currently a population of 60% Vietnam Veterans, the Wisconsin VFW is turning over its leadership to those returning from Wars in Iraq and Afghanistan.
"Successful VFW Posts identify the leaders of tomorrow and leverage the mentorship of our Vietnam Veterans that led for many decades," said Rathke.
The Veterans of Foreign Wars, Department of Wisconsin has 245 Posts in 10 districts with over 25,000 members and 8,500 in its Auxiliary. "No one does more for Veterans."
###