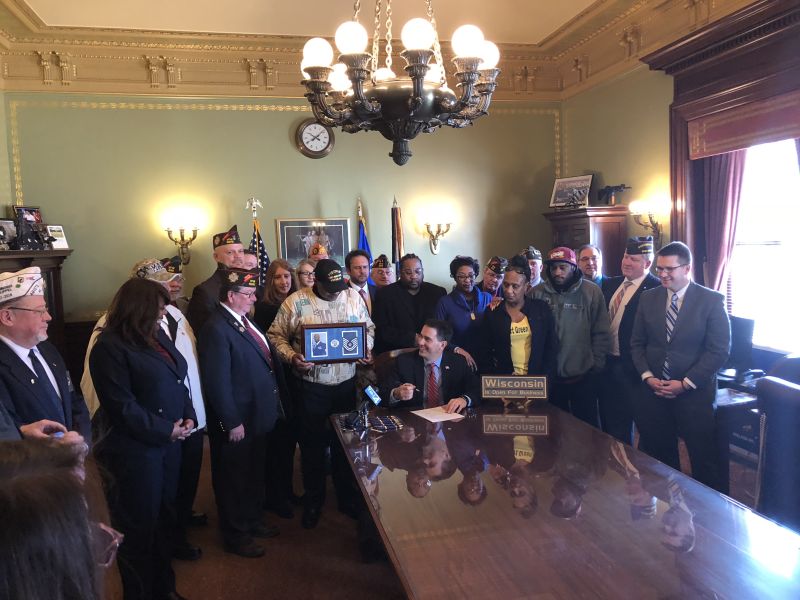 While surrounded by the VFW Department of Wisconsin Commander and other VFW state leadership, Wisconsin Governor Scott Walker signed SB 473 in to law as ACT 175. The law, also known as the "Corey Adams Searchlight Act" creates a statewide alert system ("Green Alert") for missing, at-risk veterans who have service-related mental and/or physical health conditions.
Similar to existing "Amber Alert" and "Silver Alert" systems, the Green Alert network is the first of its kind in the nation and puts Wisconsin out front in taking care of our most vulnerable veterans. The VFW of Wisconsin hopes that other states will follow suit and implement this vital tool in our nationwide fight to reduce veteran suicides and homelessness to ZERO.
"I express my heartfelt gratitude to the authors of this legislation, Senators Patrick Testin (R)-Stevens Point and La Tonya Johnson (D)-Milwaukee, Representatives Joel Kleefisch (R)­Oconomowoc and Evan Goyke (D)-Milwaukee, as well as commend Governor Walker for his quick signature of SB 473 in to law" says Department Commander John "Trapper" Schultz.
"Corey was a VFW member, his father Johnnie is a VFW member and as such they are family, and the VFW takes care of our family."
Schultz added, "I am so proud of the hard work our State Legislative team put forth to make this law a reality, as well as the support we received from our entire membership to make this an absolute priority".
A job well done comrades!