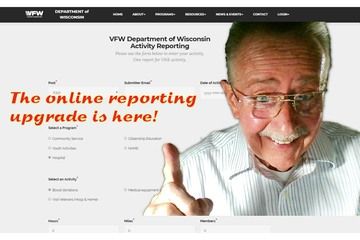 Big changes have come at last to our VFW Online Reporting system. Members only have to log into the
Members Only
section of our state website (vfwwi.org) and click on the link to Activity Reporting or, for Post Veteran Service Officers, the PVSO Reports link. Simple. Easy.
And Post Commanders and Quartermasters: There's virtually no need for Special Access to simply enter reports.
(Selected individuals will have Editing capability for corrections and to delete duplicates, but that's about it.)
Members are urged to log into the
Members Only
and read the complete guide to the new, updated Online Reporting app on our State Website. It's time we took advantage of this great opportunity to tell the world about all the things we do for Veterans, their families and our communities. Now it's easy to do just that.
And, coming soon, an Activities Dashboard that will let not only every member, but the general public see... Post by Post, District by District... in fact
the entire State organization's record on serving our contituencies.
Log in today and show the world what you and your fellow members are doing in your continuing service to all!