One Bike at a Time. One Hero at a Time.
And it's Time...
---
OUR 1ST APPLICATION PERIOD IS
OPEN NOW UNTIL MARCH 20, 2021...
...and We're Selecting THREE
Injured WI Veteran Riders to Receive a
Harley-Davidson to Start 2021's Season Off!

Hogs For Heroes is a small, Wisconsin-only nonprofit that raises funds to buy Harley-Davidson motorcycles for injured WI Veteran riders whose healing may benefit by returning to the road for what we riders affectionately call "wind therapy". We believe regaining the freedom of the open road, the pride in ownership and the collegiality of riders can provide therapeutic value to those Veterans who have long enjoyed the passion for riding and now find themselves without means or ability to have that bike in their life. We work to help heal wounds incurred during active duty--physical, psychological, emotional--and whose existence is likely exacerbated by a lack of effective resources and support. Our gift is NOT an award for service: it is an alternative therapy intended to help those struggling and at-risk individuals reconnect and reengage with a motorcycle as the tool. And while our gift is given to only one individual, the ripple effect of it's beautiful impact affects spouses, families, employers, communities and other Veterans as these recipients regain outlets and support… all because a motorcycle reentered their life. Not just for a day's excursion, or a week's retreat, but for as long as they choose to continue their passion with the road. It provides an identity and escape, a culture and a family. Our Recipients, and their spouses, will repeatedly tell you our gifts have literally changed their lives and, in multiple cases, saved their lives. Simply put, we do not just gift a motorcycle: it's a life-changing tool.
Our goal is to gift one Harley a year; and, it still shocks us that in just a little over four years of gifting motorcycles, we wrapped up our 2020 season by returning our SIXTEENTH Veteran back to the road. YOU, our Supporters, make this possible. We certainly can't accomplish this kind of life-changing work without you, and your kind, generous hearts, right at our side.
These pandemic times have been difficult for everyone and yet, you all rose to the occasion and shared what you could. Right now we plan to gift at least four bikes in 2021, and will seek out our first three recipients to start. We anticipate opening 2021's last application period in late May and will then seek our next Recipient(s) to regain the benefits of wind therapy. Please help us get the word out by sharing our opportunity with all that you know...one never knows when the right information will land in the right hands!
As life returns to some semblance of normality, many great organizations have chosen us as their beneficiary for awesome 2021 events! Catch some below, and be sure to watch our calendar and Facebook page for more events and announcements. We hope you join the fun when you can! And remember... every single penny that is shared with us goes straight, and in full, toward the purchase of the next Bike. 100%.
As we roll into 2021, smile big as you think about the many deserving lives your efforts have and will positively change. It does a heart good to do good for others.
Thank you for supporting us on this healing mission!
Kevin & Audra
Craig & Michelle
---
Are you a WI Veteran with a service-connected injury, a passion for motorcycling and the need to return to the open road for some therapeutic healing? Or, can you SHARE this information with someone needing to regain that peace?
Hogs For Heroes is a WI non-profit dedicated to healing the mental and physical wounds suffered by our WI Veterans during the course of active duty through the therapeutic benefits of owning and riding a Harley-Davidson. We raise funds to purchase Harleys for injured WI Veteran riders who now find themselves struggling-- mentally and physically-- without means or ability to have a bike and a deep need to return to the road and it's benefits. We aim to help their healing with an alternative therapy: that of The Road.
We believe the freedom of the road, the collegiality of riders and the pride and peace found in ownership can support the healing process for our injured Veteran riders. Awarding one bike at a time and recognizing one hero at a time, it is our hope that we make the rough road a little smoother for a Veteran Hero who gave on our behalf.
---
We are looking for:
a Wisconsin Veteran resident, honorably discharged and fully separated,
with a service-connected injury/disability/disease,
who has a current motorcycle endorsement and an established history of motorcycle riding and enthusiasm,
and is in a position that prevents them from purchasing a motorcycle themselves.
Our gift is NOT an award for service, years dedicated or medals earned. It is a therapeutic tool intended to enhance one's healing journey and redirect a struggling life. We look to support those most in need.
This current opportunity opens February 11, 2021 and application materials must be postmarked by March 20, 2021.
Apply once and be considered for every one of the giftings we offer in 2021!
We aim to gift these three bikes during the May--July timeframe, scheduling dependent. Our last application period of 2021 will open in late May for a shorter time frame. At least one additional gifting(s) is planned at this time.
---
---
| | |
| --- | --- |
| WATCH FOR THESE COOL PLATES ON THE ROAD... | |
Our Recipients surprised us again. First decals, now this.
To express their gratitude to all who made their bike possible, our Recipients secretly made the decision to have license plates that reflect their gifting number. We at Hogs For Heroes (H4H) are greatly humbled by this homage. We would never ask anyone to tag their bikes in any way. That's how much your gift means to them.
---
FUN and SUPPORT!
MARK YOUR CALENDARS NOW
In memory of avid rider Steve "Rino" Rinabarger (1956-2020), this first annual Poker Run has made us their beneficiary!
Registration 10-12 at
The Schelter Bar in Leland
. Meander roads to 7 stops in Sauk, Columbia and Dane Counties to end up at The Red Mouse in Pine Bluff for more fun, raffles and a picnic dinner!

Catch the FB event details here!
---
FOX VALLEY'S CVMA 45-3
RIDE FOR HOGS FOR HEROES
6/12/2021
Details will be out soon, but our CVMA friends are doing this one just for us! In and out at The Bee Hive Barn & Grill in Neenah, WI for a day filled with cool stops and LIVE MUSIC upon return. Sure to be a great day filled with brotherhood and fun!
---
THE IUOE LOCAL139 WAUSHARA COUNTY POKER RUN
6/26/2021
The 4th Annual Operating Engineers Poker Run benefitting Hogs For Heroes will start and end at the impressive IUOE Training Center in Coloma, WI.
Trust us--this is one well-done ride that meanders beautiful central Wisconsin roads. Ride with us! All are welcome! More info to come.
---
OXFORD VFW POST 6003
HOGS FOR HEROES RIDE
7/17/21
The Post's Veterans and friends are working to make this one heck of a ride around Wisco's beautiful rural roads, and help return one more Veteran back to the road. In and out of Post 6003 in Oxford, WI, returning for LIVE MUSIC by The Back Alley Kings from 5-9 on their outdoor stage. This is one awesome Post and set-up to hang out with! We'll share more details as they roll out.
---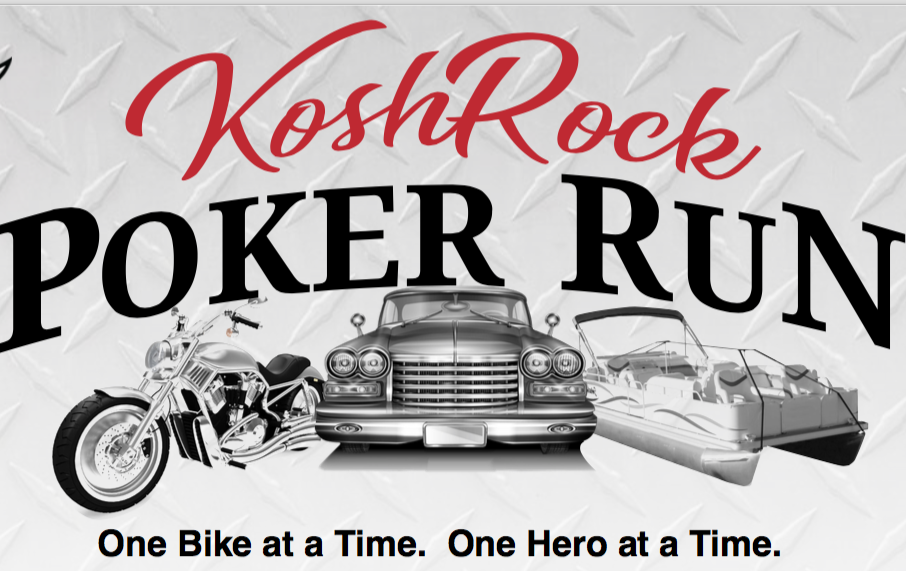 SAVE THE DATE:
THE KOSH-ROCK RUN 8/14/21
Traverse the lake area on two wheels, four wheels or propeller...at your own pace and at the stops you choose! Even cooler-- they share their full proceeds with us!
The Anchor in Edgerton, WI puts this baby on for all to get to know the awesome spots around Lake Koshkonong! Ink this one in--it's a hoot!
---
FIRE FOR EFFECT
8/20 & 8/21
The 2nd annual weekend long music event is back even bigger and better with the US Military Vets MC and Salute The Troops rallying behind the effort to support our Veterans. Hogs For Heroes is lucky enough to be one of their beneficiaries...and take our word for it, this is one heck of a time! The action takes place at
The Nuthouse in Fond du Lac, W
I and primitive camping is available. Plans, along with rock, country and metal bands are lining up now! Purchase a wrist band for unlimited beer, music and fun.
Click here to catch the FB event details!
---
Always Remember...
Freedom Isn't Free.
---
Be Sure to Follow Us on Social Media for All News and Updates!