An element of the West Bend, Wisconsin-based Company C, 1st Battalion, 168th Aviation is deploying to Afghanistan with approximately 35 Soldiers, while approximately 60 Soldiers from the Madison, Wisconsin-based 1st Battalion, 147th Aviation are deploying to Kuwait.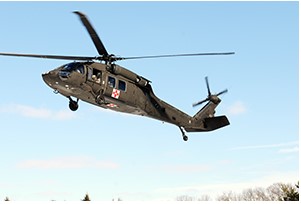 The West Bend-based Soldiers will provide UH-60 Black Hawk aerial medevac assets and aircraft maintenance support for American personnel operating in Afghanistan in support of Operation Freedom Sentinel. Meanwhile, the Madison-based Soldiers will provide UH-60M Black Hawk helicopter airlift assets and maintenance support personnel to their area of operations and specialize in moving troops and VIPs throughout the region.
Both units have trained extensively for their deployments and focused on specialized skills needed for aircraft maintenance, refueling, aerial gunnery, flight medic and hoist operations, and operating the UH-60 Black Hawk in various environments and conditions.
Elements of both units have deployed multiple times in support of military operations since Sept. 11, 2001. The 1st Battalion, 147th Aviation most recently deployed to Iraq in 2010-11 in support of Operation Iraqi Freedom, while elements of the 1st Battalion, 168th Aviation deployed most recently to Kosovo in 2011-12.
The Wisconsin National Guard continues to play a critical role as the primary combat reserve of the U.S. Army and Air Force in military operations around the globe despite troop drawdowns in Iraq and Afghanistan. Wisconsin Army National Guard Soldiers with Detachment 1, Headquarters, 101st Airborne Division Multi-Component Unit returned from a deployment to Iraq and Kuwait in late 2016, and the 32nd Military Police Company remains deployed to U.S. Naval Station Guantanamo Bay, Cuba, where it is conducting detention operations.
The Wisconsin National Guard simultaneously remains ready to execute its other primary mission as the first military responder in the homeland.
The Wisconsin National Guard is currently planning a sendoff ceremony for the deploying Soldiers and will announce those details as the unit's deployment draws near.
Posted by JVC Gundel Metz